The Conversation Systems Coaching Programme ® (The Conversation) is our systems coaching programme for large groups of prison staff and prisoners to enhance their relationships, improve empathy, and support sustained, positive cultural change on prison wings.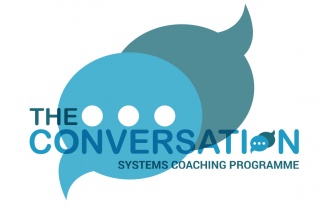 What is systems coaching in prison?
Systems coaching looks beyond individual behaviour, to the interactions between individuals, and the effect their relationships have on their environment. It can lead to individuals within a system finding their own solutions to the challenges that they're facing, together.
Our specialist systems coaches are all trained in Organisation and Relationship Systems Coaching (ORSC).
What happens during The Conversation?
Through a facilitated systems coaching process, prisoners and prison staff on a prison wing come together to decide on issues they want to solve, to create a more rehabilitative culture and a safer working environment.
During our workshops, our systems coaches create the space for open and honest conversations about how daily life can improve for everyone living and working on the wing, and how prisoners and prison officers can collaborate to make change happen.
On finishing the programme, they have tangible actions they can implement to transform their environment and culture on the wing.
Creating safer and rehabilitative prison environments benefits both prison officers and prisoners. As well as enhancing the wellbeing of prison staff, a rehabilitative prison wing provides the foundation for prisoners to turn their lives around, making them less likely to reoffend.
The Conversation promotes positive, human interaction between prisoners and prison officers.
It has been proven to improve their empathy and understanding, and ultimately, their relationship — as well as a 81% increase in prisoners' positive behaviour.
Chris, 30
Prison Officer, HMP Pentonville
After The Conversation, two of the officers who sat at the back of the room were talking to two of the prisoners who were also there. I pointed it out to my colleague, and said, you wouldn't have had that before the workshop. It was nice to have people looking at things from a different perspective - rather than ​'us versus them'.
Some of my colleagues have just taken a step back and changed their ways. We all learnt together, and it's given us common ground. I think everyone got something from that.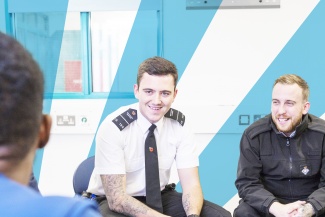 Sam, 27
Prisoner, HMP Pentonville
It gave us a chance to understand what staff go through, younger prisoners go through, and older prisoners go through, and how we feel about the prison at the moment. We have got a greater understanding of the communities that live and work here, and how to make things better within the community we're in.

It's an emotional rollercoaster because you're dealing with emotional situations in prison. It gave everyone chance to see each other's point of view. It gave officers a chance to express as well, because the whole prison system is emphasised on inmates, inmates, inmates, but it's good for staff to express how they feel because outside they have to keep on a professional level, and it's hard.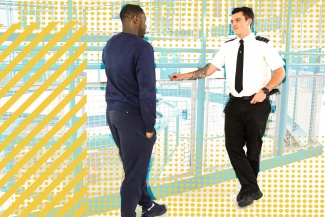 Want to know more about our programmes? Contact: