Big
Give
Christmas
Challenge
2018:
Doubling
our
donations!
20 November 2018
We're very excited to announce that we will be taking part in the UK's largest match funding campaign, the Big Give Christmas Challenge 2018!
Last year, the Christmas Challenge matched over £11.3 million in donations for selected charities like Spark Inside.
Starting from next Tuesday, 27th November at 12pm every donation that we receive through our project page on the Big Give website will be matched for 7 days, up until 12pm on the following Tuesday, 4th December 2018.
This means that for every £1 you donate, we will receive £2.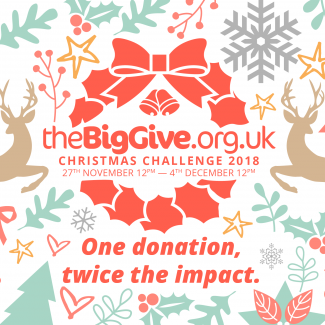 What are we raising money for?
We are aiming to raise £85,000 to deliver a tailored version of our life coaching programme, Hero's Journey, for young black men in prisons across London.
We know from The Lammy Review and recent prison service research that young black men in prison are over-represented, but few services are tailored to their needs. As recently requested by prison governors, we will co-design a new Hero's Journey workshop with and for black and dual-heritage men aged 15 to 25 years old.
Click here to find out more about our project.
We already know what a difference Hero's Journey makes to young people in prison. Our latest evaluation results show it has reduced young people's reoffending by one-third, reduced violent behaviour and improved their wellbeing, decision-making, empathy, resilience and confidence.
What can I do?
If you ever wanted to support our work, there is no better time than next week to donate, as your impact will be doubled.
Visit our donation page on the Big Give website from 12pm on 27th November until the 4th December to double your donation! A clear message will be displayed on the donation page to indicate when the Christmas Challenge has begun and that your donation will be doubled.

If you can't donate – share! You can help us make an impact by sharing our campaign through your social media.
More about this topic…