We're working to make sure our coaching programmes in prisons are as sustainable as possible.
How are we funded?
We've diversified our funding and rely on earned income from buyers and commissioners, grants from trusts and foundations, and philanthropy to make our coaching programmes happen.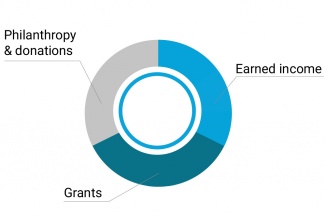 We'd love for you to become part of our impact and growth journey.
Your one-off or monthly donation will support us in continuing to make a difference in our prisons. Click here to donate now.
Want to support us through Amazon? Shop Amazon through this link to donate 0.5% of your net purchase at no extra cost!
To learn about the different opportunities to contribute financially or in-kind to our work, contact our Founder & CEO, Baillie Aaron. If you work for a trust or foundation, please contact our Head of Communications, Indy Cross.