Our
new
CEO
in 2020!
28 November 2019
We are delighted to announce that Vicki Cardwell will be joining Spark Inside in January 2020 as our new CEO.
Vicki has significant leadership experience and has worked for over a decade in the criminal justice sector. At Catch22 Vicki helped launch the ground-breaking Transition to Adulthood Alliance and as Chief Executive of the Criminal Justice Alliance she secured ​'restorative justice' into legislation.
Vicki most recently comes from the Revolving Doors Agency where as Deputy Chief Executive she led the high-profile campaign to reduce short prison sentences, resulting in Ministerial backing and a shift in the national media discourse. Vicki's leadership of Revolving Doors' policy and research teams helped drive a doubling of the charity's income within five years.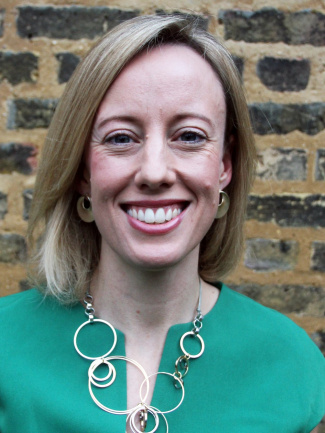 On the appointment, Vicki says:
"I'm absolutely thrilled to be joining Spark Inside at this exciting point in their journey. I have long admired their work and their impact, they have such an impressive reputation within the criminal justice sector. Spark Inside's coaching programmes have been proven to improve wellbeing, increase confidence, change wing culture and contribute towards a reduction in reoffending.

Importantly, Spark Inside is also playing a growing role as an influential voice for change in the criminal justice sector. I'm really looking forward to working with this incredible team of staff and coaches."
Vicki will be taking over as CEO from Baillie Aaron, our outgoing CEO who founded Spark Inside in 2012. Prisons remain a very challenging environment to work in and over the past eight years, Baillie has developed an award winning organisation that has worked with over 1,000 people living and working in prisons.
Roma Hooper, Spark Inside Chair of Trustees says:
"The year 2020 will be the start of an exciting new era for Spark Inside. Sometimes founders of charities leave when things aren't going so well but Baillie has decided to do the complete opposite. Whilst we will be sad to see Baillie leave, we are very excited to have Vicki joining us. Vicki brings extensive criminal justice and leadership experience and we are looking forward to working with her to build on Baillie's powerful legacy."
Vicki Cardwell (@vickihcardwell) will join Spark Inside as incoming CEO on January 6 2020.
Baillie Aaron will remain at Spark Inside as outgoing CEO until February 7 2020. Following her departure as CEO, Baillie will continue to support Spark Inside in an ambassadorial capacity. Baillie is setting up a consultancy for foundation and charity Trustees and Chief Executives. In addition to one-to-one consultancy and critical friendship, she is developing workshops raising awareness of cognitive bias in decision-making processes and providing training on capacity-building with an intersectional lens. @baillieaaron www​.bail​lieaaron​.com