Staying
connected
with
people
in
prison
during
COVID-19
14 May 2020
The COVID-19 outbreak has posed a series of unique challenges to Spark Inside's continuing delivery, but we recognise that it is now more important than ever to keep in touch with the people we work with in prison. And although this will never replace sessions with our coaches, here's what we're doing to remain connected, until we can meet again:
Prison radio
This week National Prison Radio began airing messages from Spark Inside, including messages from our life coaches, Samuel and Caterina – voices that the young people they coach will recognise. It has allowed us to not only tell others in prison about coaching, but it has helped us to reach out to those young people in prison who have participated in our Hero's Journey life coaching programme. We are able to reassure them that they have not been forgotten. We're delighted with the campaign, which will be running until early August.
Letters and emails to the young people we coach
After prisons entered lockdown towards the end of March, Spark Inside paused its in-prison coaching. Our delivery team wrote letters to all of the people in prison who are taking part in our coaching programme to let them know that the coaches would resume sessions as soon as possible, and to remind them that if they are released before the end of lockdown they are entitled to have their one-to-one sessions in the community, which we are pleased to say, have already begun.
In addition, at the suggestion of one of our life coaches, Spark Inside signed up to Email a Prisoner to allow coaches to contact their clients directly.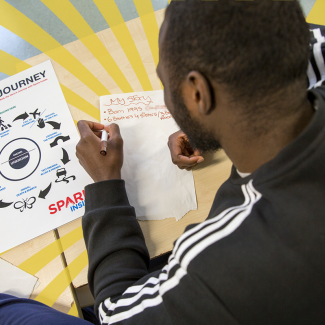 Free-to-call 0800 number
We are encouraging the young people we coach to get in touch with us directly when they leave prison to arrange their life coaching sessions. Therefore, we set up a free-to-call 0800 phone number to replace our office phone line, ensuring that cost is no barrier to contacting us. During the COVID-19 outbreak, calls to this phone number are directed to our office administrator's phone, as the office is closed. You can now contact us on 0800 066 2034.
Simone Ujah, Senior Service Delivery Manager says:
"It's really important to us at Spark Inside to ensure the young people, who are locked-up for 23 hours a day and have had their coaching sessions and other interventions taken away, don't feel that they are ​'out of sight, out of mind'.

We'll continue to explore innovative ways to keep in touch with people in prison during this crisis and ensure that we are preparing ourselves for when we can begin coaching again – at a time when they will need us more than ever."
Want to know more? Get in touch with…