Bringing
criminal
justice
to Davos
13 February 2019
Our Founder and CEO, Baillie Aaron has written about her attendance at the World Economic Forum's 49th Annual General Meeting in Davos, Switzerland in January 2019, and how she brought criminal justice to the forefront.
Only at Davos does one walk down a hallway with Bill Gates, Prince William and… me.
What was it like? In short – surreal.
I received the opportunity to attend the Annual Meeting of the World Economic Forum (WEF) in Davos through the Global Shapers community — a WEF initiative. There are over 7,000 Global Shapers in nearly 400 city-based hubs who voluntarily run social impact projects in their spare time, to improve their local communities. I'm privileged to co-lead the London Hub, comprised of incredible young leaders which include our incoming Board Trustee at Spark Inside, Kenny Imafidon.
The Annual Meeting is known to attract the world's political and business leaders to talk about global challenges and opportunities. The fourth industrial revolution, climate change and the future of work and education were top on the agenda. But somehow, crime and imprisonment hadn't made the cut, despite the link between crime and the anticipated growing inequality that representatives were meant to be tackling. It was my goal to make sure that even if crime and prison reform weren't formally part of the Davos programme, that they would be firmly on delegates' minds.
I'd been preparing for months. I authored two pieces in WEF's Agenda on how prisons are failing and we need to find an alternative; and how social replication could enable criminal justice charities to scale their programmes. I planned out which sessions I would attend at Davos, and drew up a ​'challenging' question to ask in each to ensure that those who live and work in prisons were not forgotten.
I then focused on setting up one-to-one meetings at Davos with likeminded delegates. The only problem? There weren't many. A keyword search through participants' interests of ​'prisons' and ​'justice' turned up only a handful of results. I realised I'd have to do a lot more to raise awareness of criminal justice and its importance in the global arena.
Luckily, I had the support of 48 other Global Shapers who were also selected to attend Davos; six of whom co-chaired the event, with the CEO of Microsoft. Among them was Rachel Haas, Managing Director of NO MORE, a global non-profit focused on ending gender-based violence. Despite working with the victims of crime, Rachel also saw a future where restorative justice and treatment-based solutions were used instead of punishment.
The Global Shapers spent a weekend together in Zurich before the start of the Annual Meeting, preparing to represent the voice of young people before we headed to Davos, for one of the most action-packed, sleepless and intense weeks I've ever experienced.
To give you an idea of how I spent the following five days:
Monday was the kickoff. I spent the morning hearing from the Executive Director of UNICEF, Henrietta Fore, about her vision for the organisation. When she took questions, I complimented UNICEF's public stance on keeping children out of prison, and asked about their plans to drive that forwards; the response was unfortunately vague.
Later that day, after an opening event with Sir David Attenborough, I attended a private reception for Time Magazine, where I spoke with will.i.am (Grammy award winner, philanthropist and entrepreneur) about Spark Inside's Hero's Journey programme and the need to curb violence among young men. I had a pleasant surprise when I met Marc Benioff, the CEO of Salesforce and an advocate for tackling homelessness in San Francisco. He had already heard of our work! I spent the rest of the evening speaking to a number of delegates from various backgrounds about the need for prison reform; to my delight, nearly everyone was receptive to a discussion on the topic.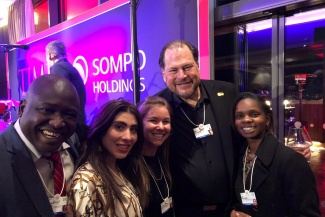 Tuesday started with a session by Dr. Hilary Cottam, a leading UK social entrepreneur rethinking our social services. I asked a question: if we were able to redesign our social services, what would happen to crime – and would we still need prisons? The moderator said: ​'I don't think this question is relevant' – which unfortunately reflects the mentality that prison reform falls outside of general social reform conversations. However, Hilary had written a policy paper on prisons, so answered my question anyway.
Later that day, I met with the Minister for Justice for Brazil, Sergio Moro. I had the opportunity to ask him about his vision for prison policy, and he was curious to learn about Spark Inside's coaching approach. Since then, we've shared some materials with his team and perhaps we'll see a coaching approach being introduced to the Brazilian prison system!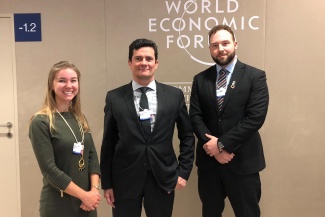 I spent the evening at a discussion on ​'Doing the Impossible' with magician David Blaine, gold medallist Paralympian Susannah Rodgers and other inspirational leaders. The moderator from Forbes magazine asked each table to think about a topic that the majority of people thought was impossible – but we thought could happen. I managed to convince my table to scrap ​'reversing climate change' and adopt ​'a world without prisons'. After a lively debate on whether that was achievable, one attendee suggested that with the future introduction of Universal Basic Income, we could move from a system that punished crime through sanctions, to one that rewarded positive behaviour. I was able to present our table's vision to all attendees and sow the seeds of this vision amongst world's leaders.
On Wednesday, I was invited to a private lunch overlooking the Swiss mountains with business leaders – one of whom, it turned out, had been incarcerated at Brixton prison as a young man. Yet another success story of someone turning his life around – from HMP Brixton to Davos! I went on to moderate a private session for Global Shapers with the Proctor & Gamble President for North America on diversity and inclusion. I later walked past Paul Kagame, President of Rwanda, and the Prime Minister of Japan, Shinzō Abe.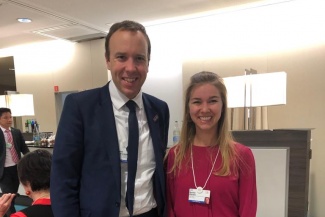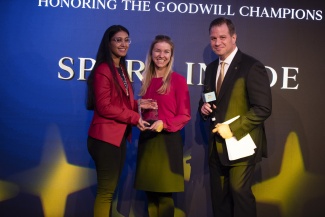 To show what a small world it was, two of the UK-based attendees shared with me how one of their friends in London is also doing work with young men in prisons… turns out, they were talking about our very own coach Ewa!
On Friday, the Global Shapers and World Economic Forum held their closing ceremonies…but I wasn't done yet. I had an interview with HCL Technologies and then went on to meet with the President of Junior Achievement, the non-profit organisation that gave me my first taste of entrepreneurship back in high school. That evening, I went to my last dinner and made a number of new connections, including a potential corporate sponsor for Spark Inside.
I woke up early on Saturday morning to catch my flight, 6kgs overweight thanks to the HCL award, proud to have voiced the need for prison reform at Davos; and hopeful that at least one of the people I met will feel inspired to join us in creating a better future for those who live and work in prisons.