Spark
Inside
begins
first
prison
life
coaching
pilot
for
young
black men
20 February 2020
This week we began the pilot of our tailored life coaching programme for young black men in prison in London.
Two of our specially-trained professional life coaches have been working with young black men aged 16 – 25 in HMPYOI Isis, delivering our Hero's Journey™ life coaching programme, which has been adapted to address the specific experiences of young black men in the prison system.
Samuel Onagoruwa, one of the Spark Inside life coaches delivering this pilot, told us:
''It was an honour to be in the room with so much honesty and authenticity. Creating an environment where the men could look at themselves without judgement, but also look at each other the same way was humbling.''
Jeffrey Wotherspoon, also a Spark Inside life coach and involved in the delivery, design and development of the programme, said:
"I had goose-bumps as I witnessed the young men support and encourage each other. It was a safe environment where the men could be vulnerable, and as a result they all said they were surprised by what they learnt and the insights they gained.

After workshop one, one young man said he shared his experience with 5 people on his wing, and before we began workshop two we had young men walking in asking how we could enrol on the programme."
Our Hero's Journey™ life coaching programme has been proven to improve young men's wellbeing, their confidence and resilience, and their decision-making and problem-solving skills, as well as improving their perspective on the future. Co-designed with young black men with lived experience of prison, Spark Inside is looking forward to reviewing the outcomes of the customised programme and learning about what worked well and what can be improved upon, with the ultimate aim to take it beyond a pilot.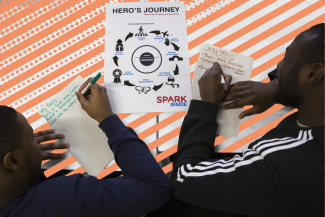 Want to know more? Get in touch with…
More about this topic…